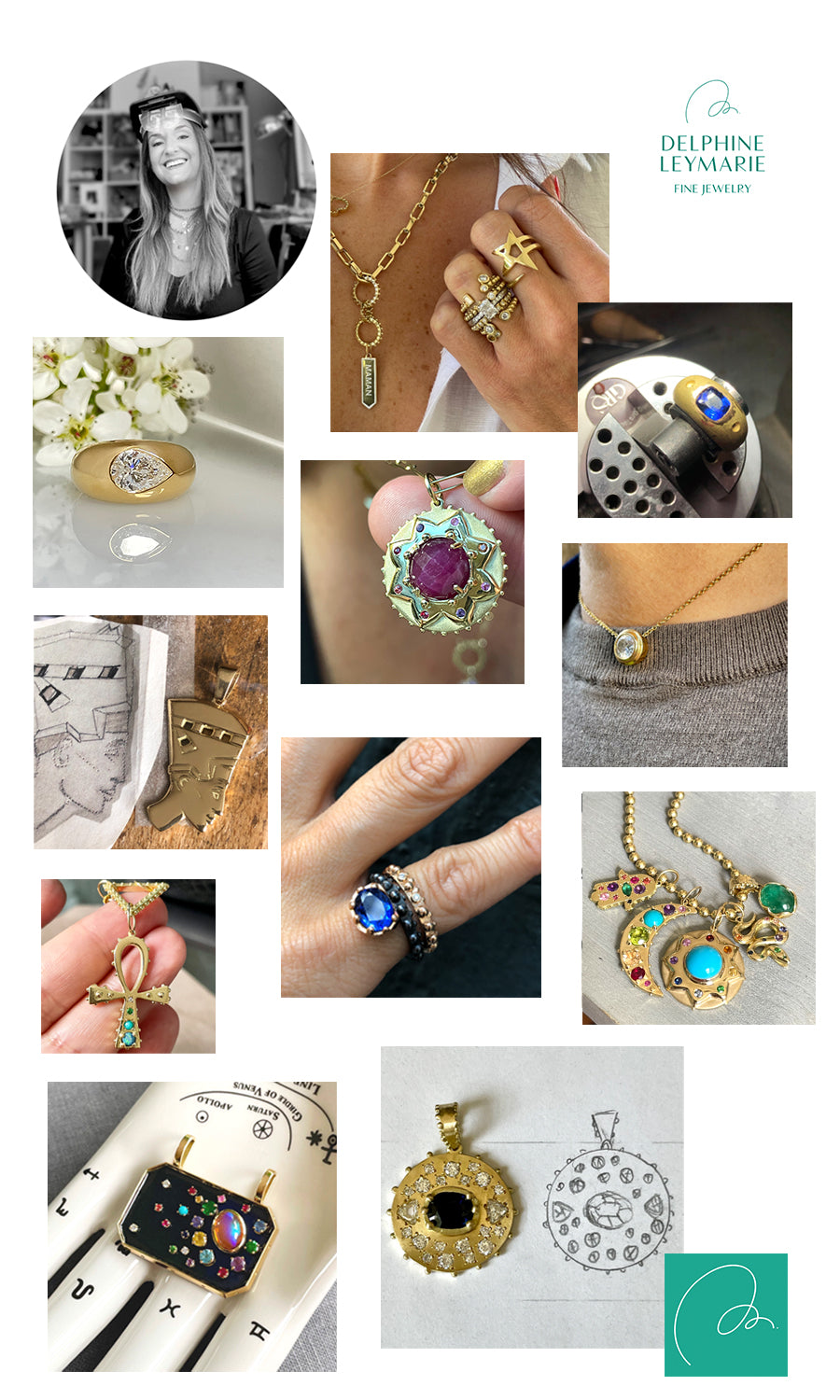 WORK WITH DELPHINE
LET'S CO-CREATE A JEWEL TOGETHER
"There is a special joy I get from collaborating on a bespoke design with someone.
I find magic in the process of taking people along for the full creative journey.
We start by brainstorming the most suited design directions together, leading us to create sketches and rendering. This initial consultation can happen in person in our Manhattan showroom, or comfortably over zoom.
Next is the exciting start of the jewelry production, meaning either hand-carving wax models (most of our jewels are crafted with that method), fabricating with metal or CAD designing pieces - we always use the method best suited for your project.
Then we proceed to casting if your jewel was hand carved or CAD designed, followed by polishing, stone setting and finally, to the reveal of the carefully crafted jewels we dreamed together, as precious and unique as you are." Delphine says.
Delphine also loves reworking family heirlooms and giving new life to old gems.
Let's collaborate and co-create a dreamy custom jewels for you or your loved ones, starting from scratch or reworking unloved/unworn pieces from your jewelry box. Let's upcycle your neglected pieces from your into new jewels for you to wear and lovingly pass down to the next generation.
Book your initial consultation HERE or contact us below to get started with your own bespoke project with Delphine.
YOUR DREAM CUSTOM JEWEL AWAITS
Please fill out the form below and describe your project in as much detail as possible. You can also include links and/or your inspiration moodboard.
We will be back in touch to set up your free initial consultation.
To start the actual custom design process, we require a non-refundable deposit of $500. This deposit covers the initial design consultation, sketches, and CAD renders. The deposit will be applied as a credit towards the cost of your finished jewelry.
A full estimate will always be provided for your approval prior to the project starting.