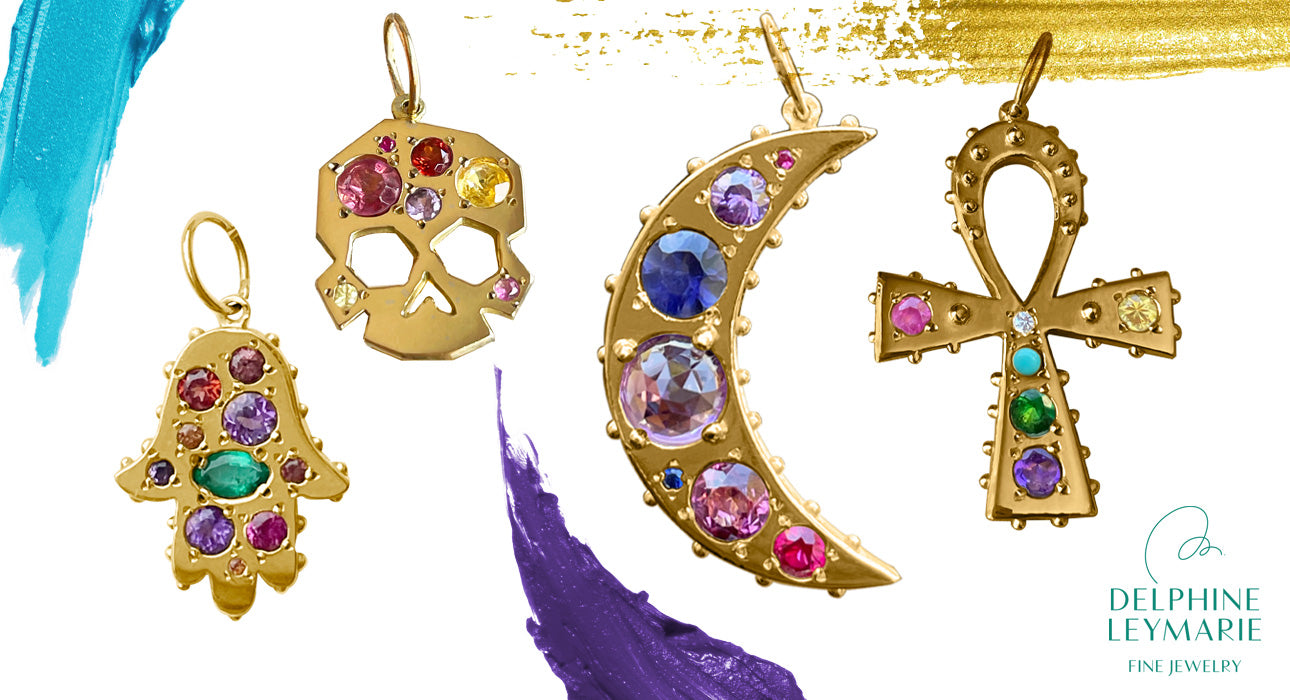 PAINTING WITH GEMS - Inspired Anew
This summer I was able to go back to my roots, joyfully reconnecting with family in my beloved South of France, and going back to the mediterranean beaches I grew up on, getting grounded and inspired anew while there.

I am back at the bench, creating with renewed ease and a very welcome sense of playfulness, leading to colorful new pieces I describe as "painted with gems"
THESE  JEWELS  ARE  ONE-OF-A-KIND
JUST LIKE YOU ARE
Expect many variations and pieces updates in this style, as I am enamored with the result, and hope that you will be, too... Do get in touch if you'd like to work together to dream up a custom color palette for you and co-create jewels as unique as you are. 
A bit rough, and definitely precious.

Jewels crafted to be lived in, no matter what you are up to, is my idea of everyday luxe.

Ready to be taken on many adventures with you. 

Click on the images below for more details on the brand new gem-rich talismans:
THE FACETTE GEMMY SKULL
A powerful symbol of change, rebirth and transformation, this colorful Skull is also a Memento Mori, a tangible way of keeping the memories of our late loved ones close and alive in our hearts. With Gems in lieu of pigment, I "painted" the skull in a fiery color palette inspired by the beautiful sunsets in my native South-of-France.
 

THE BOHEME HAMSA


A powerful and universal symbol, with an emerald marquise as an eye at its center, it represents protection against the evil eye, but also hope & good luck from its 5 fingers kept together, and blessings from the hand pointing downwards.
 
THE BOHEME ANKH


The Ankh, or the Key of Life, is an Ancient Egyptian Hieroglyphic symbol meaning the word life, literally, and depicted in art as both the breath of life at birth, and the key to eternal life beyond death. By extension, It represents the full cycle of life, the air & water elements that sustain it, and fertility, prosperity & goof luck.
 

THE BOHEME CRESCENT MOON
Harness the magic of the moon wherever you go. A symbol of intuition, dreams, our shadow self and the unconscious, this solid 18k recycled yellow gold beauty casts its beams in shades of purple, pink and blue inspired by a delicate sunset over lavender fields in Provence.

A bientôt!
With 18 karat love from NYC,
DELPHINE